CALIFORNIA STATE LIBRARY PARK PASSES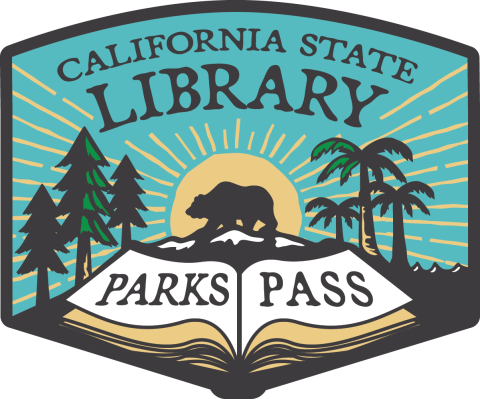 The pass entitles the user to a free vehicle day-use entry for one passenger vehicle with capacity of nine people or less or one highway licensed motorcycle at over 200 participating state park units. View an interactive map with California's public libraries and nearby participating state parks.
Free Vehicle Day Use Pass
1 Pass per card - pass good for 1 vehicle with up to 9 passengers.
Look for it on the New Books book case
Checks out for 7 days, no renewals
Pass must be picked up and returned to the Benicia Public Library Public Service Desk.
Hang the pass in your front window, green side showing out the window.
If you borrow a pass, take a survey on how the program is working and enter to win a free annual pass.
Ineligible Parks
The pass will not be honored at state park units operated by federal or local government and private agencies or concessionaires. Also, the pass is not valid for per-person entry or tour fees (such as museums), boat use, camping, group use or sites, special events, additional/extra vehicle fees, sanitation disposal use or for supplemental fees. To see a list of parks not accepting the pass. and read full terms and conditions.
Kids' Exploration of State Parks
Hey, kids, come have some fun in California's state parks!
With 279 parks, there are many ways for you, your family and friends to enjoy the outdoors: Have a blast swimming in a lake, playing on the beach, hiking or camping in the woods, exploring exciting Wild West towns, discovering historical places, learning about California's tribal communities and more!
Go to the State Parks Kids page to can help you and your parents plan your outdoor adventures. We've included activities you can do in the parks or at home, and, most importantly, they will help you learn why state parks are valuable and why it is important for all of us to protect them. Below you will also find safety tips as we want you to recreate responsibly when having fun in the outdoors.
Recreate Responsibly
Getting into the outdoors is the perfect way to connect with nature, family and friends but it is important to do so responsibly. Please protect yourself and your family by learning about the park you are visiting before heading out, wearing appropriate clothing, staying prepared by bringing the essentials like enough food and water, and knowing your comfort level to avoid injuries. Additional safety tips.
"After successive low-water drought years, it is imperative that Californians understand water safety in and around rivers, streams, lakes and Sierra reservoirs," said State Parks Director Armando Quintero. "As the temperature rises, snowmelt-fed waterways can quickly induce incapacitating cold-water shock to even the strongest swimmers. We encourage everyone to follow the advice of public safety officials and avoid entering waterways if asked to do so."
Here are some key safety points to know before heading outdoors:
Plan Ahead
Prior to leaving home, check the status of the park unit you want to visit to find out what restrictions and guidelines are in place.
Know your GPS coordinates so you can provide your location in case of emergency.
Alert someone where you are going and your expected return time. Be sure to let them know when you return safely.
Know the Water
Do not enter cold, fast-running water. It can be dangerous not only to you but also for first responders.
Many unseen obstacles can be lurking below the water's surface – this is especially the case with this year's expected high runoff following low water years. Drought-stricken forests and storm-driven landslides have filled rivers with submerged trees and rocks. Swift water can make these obstacles even more treacherous.
Sudden immersion in cold water can stimulate the "gasp reflex," causing an involuntary inhalation of air or water and can start the drowning process immediately. It can even trigger cardiac arrest, temporary paralysis, hypothermia and drowning.
Never enter the water to rescue a victim. Throw something that floats and call 9-1-1.
Know your Limits
When faced with cold, swift water, even the strongest swimmers may be easily overwhelmed. Do not enter the water and never enter the water to rescue a victim. Throw something that floats and call 9-1-1.
Swimming in open water is more difficult than in a swimming pool – people tire more quickly and can get into trouble.
Never go on the water alone. If available, guided trips for solo or inexperienced floaters or paddlers are recommended.
Know about Life Jackets
Although life jackets are strongly recommended when recreating in or near waterways, this year's expected high runoff in rivers can be dangerous even with the use of life jackets.
Conditions change quickly in open water and even the best swimmers can misjudge the water and their skills when boating or swimming. Wearing a properly fitted U.S. Coast Guard-approved life jacket can increase survival time.
Learn more about life jackets at BoatCalifornia.com.
Know how to Supervise
Actively supervise children in and around open bodies of water, giving them your undivided attention. Do not assume that someone is watching them. Appoint a designated "water watcher," taking turns with other adults.
Teach children that swimming in open water is not the same as swimming in a pool: they need to be aware of uneven surfaces, river currents, ocean undertow and changing weather.
The public can find additional safety information at these weblinks:
In partnership with the First Partner's Office and the California State Library, State Parks is providing free vehicle day-use entry to over 200 participating state park units operated by State Parks to library-card holders. The California State Library Parks Pass is valid for entry of one passenger vehicle with capacity of nine people or less or one highway licensed motorcycle.