POET LAUREATE APPLICATIONS OPEN NOW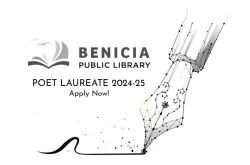 Applications are open now for a tenure to begin in January 2024. Submission deadline is October 1, 2023.
Are you a poet who lives in Benicia? Are you concerned about the future of poetry in our community and in our schools? Apply for the post of Benicia Poet Laureate, and get a chance to make a difference.